Looking for a new EHR?
Praxis EMR is rated #1 among physicians who switch EHRs.
Praxis EMR was rated number one in user satisfaction when physicians were asked to rate their new system after switching EHRs. Praxis EMR outranked all 73 EHRs, with the largest percentage of practicing physicians who strongly agreed; "I am happy with our new EHR system." Praxis EMR had 100% positive responses, and had among the largest net gains of new users of all other EHRs.
If you're shopping for new EHR system, you might appreciate this advice from hundreds of colleagues: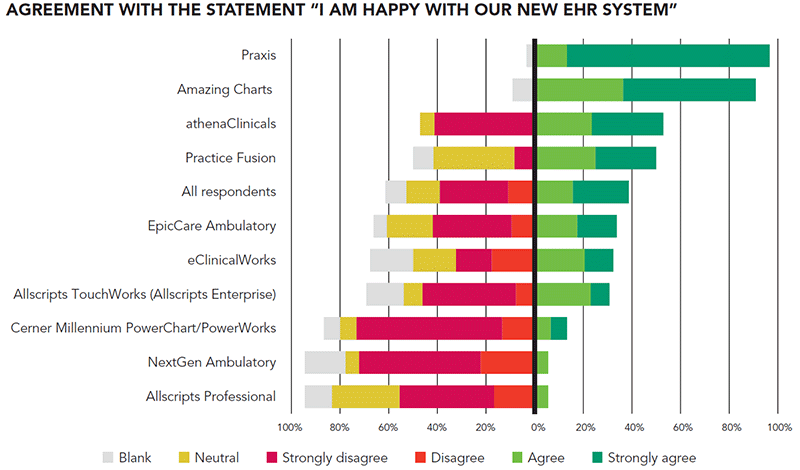 Taken from AAFP EHR User Satisfaction Survey, "Physicians Who have Switched EHRs", 2015.
Praxis EMR is #1 when physicians are asked if they enjoy using their EHR. No other EHR comes close.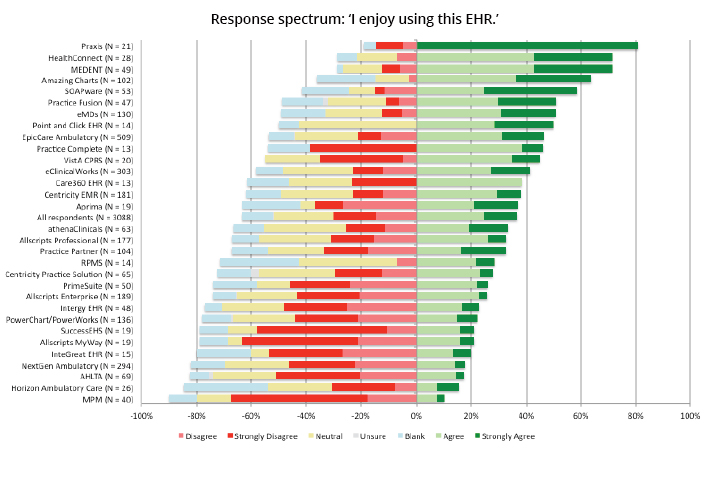 Praxis EMR is rated #1 in User Satisfaction by Physicians. Praxis EMR users are Highly Satisfied.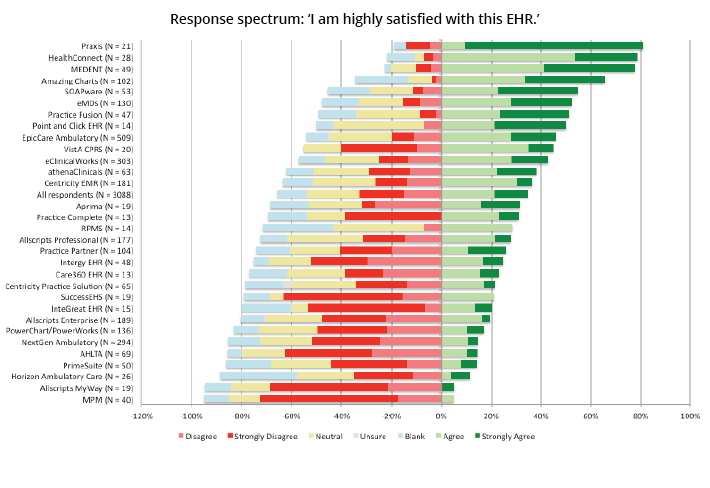 Taken from AAFP EHR User Satisfaction Survey, 2012-2014.
"My clinic's move from our first EHR to Praxis last year was the best decision I've made in years. My charts are excellent and I'm getting home early, which used to never happen! Last year I earned an extra $120,000 and I attribute most of this to Praxis."

Dr. Muhammad Munir, Pain Medicine, 2015
Switching to Praxis is EASY!
Switching EHRs is easy with Praxis. Physicians from many template-based EHR systems are switching to Praxis, and we have become experts at moving you from your template EHR to Praxis. Praxis has a dedicated and experienced data conversion team that handles your data migrations 24-7.
Import your Patient Demographics
Praxis works with virtually all billing & practice management solutions, and imports your patient demographics from your current system. It's all included for Free.
Transfer your Patient Charts
Praxis EMR can transfer all of your patient charts, progress notes, and documents. Your charts are safe and secure.
Go Paperless
Praxis assists you with scanning all paper records and documents; everything is easily archived inside Praxis. Take control of your practice!
Praxis is the EHR with the most satisfied customers.
For the first time more customers are changing from "template-based" EMRs to Praxis: the Template-Free EMR. Most have come to Praxis EMR after trying a "free" or "cheap" template based system and finding them slow and tedious, or using a 'subsidized' hospital based EMR that looked great, but ended up costing a fortune in lost time and productivity. Bottom Line: There is no other EMR/EHR system today that allows Faster Charting, enables Higher Quality Medicine or that provides Better Quality Documentation than Praxis EMR.
See why Physicians nationwide are saying "No More!" to templates and going Template-Free with Praxis EMR!
Testimonial
"Glad to hear you are looking into Praxis EMR! I can only say great things about the Praxis Program and the personnel. I went through a number of programs and nothing met my needs like Praxis EMR. The program is the absolute best at tailoring notes to your practice; AND notes very easy to modify or add to. I have tailored my chart note in order of how I document/to my flow of treatment. Other programs required me to contact the programmer and have them modify the note for me--this took a couple days for them to get to it.
Praxis makes it easy to set up a note and make sure I document everything I see-and allow me to free-type anything I need to add. I could go on and on. But I think you want the bullet point version. I know I like the nuts and bolts of things.
Brigette Kuhn, DPM, Ewa Beach, Honolulu, HI, Podiatrist
Why do I like Praxis so much?
There is almost no limit to documentation: (my favorite) you can easily add articles or quote treatment protocol per assessment to show insurance companies why a treatment was done, i.e.:

Patients with onychomycosis may experience physical impairment and psychological and social limitations related to their infection. (Measuring health-related quality of life in onychomycosis. J Am Acad Dermatol. 1998; 38(5 Pt 3):S64-8 (ISSN: 0190-9622). As the disease progresses, onychomycosis may interfere with standing, walking, and exercising. Onychomycosis is the most common of all diseases of the nails in adults. In North America, the incidence falls roughly between 2-13%. The incidence of onychomycosis is also greater in older adults, and up to 90% of the elderly may be affected. Men are more commonly infected than women. (Health and Medicine Encyclopedia: Health and Medicine Encyclopedia - Vol 19)
The setup is fast--remote set-up by the Praxis Team.
Training is great--scheduled at my convenience and done remotely but using my computer and Praxis. So it was a live training.
Everyone at the company are always quick to answer my calls or emails. You will not feel once you start with Praxis that you are on your own.
Webinars are provided as new features are presented.
Online training via their video library is always available on the website.
Praxis integrates great into my billing/scheduling software--CollaborateMD.
I hope I helped. Please email me if you have specific questions."
"I work four hours a week as a specialist in another clinic where they use (xyzEHR- a popular template based system). It is a nightmare in comparison to Praxis EMR!
The most amazing part to me... Praxis just keeps improving my practice, while their system keeps getting worse!
Congratulations Praxis... Keep up the great work!"

John Kulin, DO, Urgent Care & Occupational Medicine
"I absolutely love Praxis EMR. There's such an incredible amount of experience resonating from this program, and every day I'm learning new things. It is fascinating to put a diagnosis down, watch it load, make a couple of adjustments, and all of a sudden the chart is done for that patient. As I sit here dictating this letter, I am still looking at the other (template) system sitting on my shelf."

Allen S. Uhlik, M.D., Diplomate, American Board of Internal Medicine, Copperhill TN
"Praxis support has been absolutely outstanding. I call with a question, and the appropriate expert from Praxis calls me that day. My questions are answered, and if necessary, they dial into my system to fix whatever the problem is themselves. Why can't every computer company have support like this? It will take time for you to learn any system. I believe that your time will be much better spent learning this one. Better patient care. Less stress. More money through greater efficiency. Thanks, Praxis. This will do fine!"

Robert Schubert, M.D., Family Practice, Elizabethton, Tennessee
"After drifting from template EMRs to template EMRs between 1998 to 2006, including a "nephrology EMR", my practice finally found Praxis EMR. I always felt that specialists were under higher pressure to generate intelligible notes and convey the subtleties of a case because besides the insurance companies and the state boards, our notes are destined to fellow doctors who serve as our life line. Praxis has been very satisfying in that regard. I have read and reread the white paper on Datum. I am constantly impressed by the intellectual sophistication of the concept behind all of the new features and Praxis EMR in general."

Max Benjamin, Kidney Care Clinic
"Praxis has been a very helpful program for my practice. It is very easy to utilize, making my work very simple. The program is a revolutionary way to help me learn new concepts while working. This is the best investment I have made to help my practice."

Anselmo H. Humaran, M.D., Miami, FL