Chart at the speed of your mind.
Our clients report that it takes them less than 45 seconds to complete a chart. Praxis is that fast. This is because with Praxis you chart as fast as you think. How is this possible? Praxis learns from you as you chart in your own words. Instead of forcing you to adapt to a template (developed by an 'expert' that presumably knows more about medicine than you do), Praxis adapts to you and gets faster the more you use it. Before you know it, you are charting at the speed of your mind.
Using Praxis EMR progressively improves productivity and saves you 2-3 hours each day. Please join us for a live Praxis EMR Demo and learn more.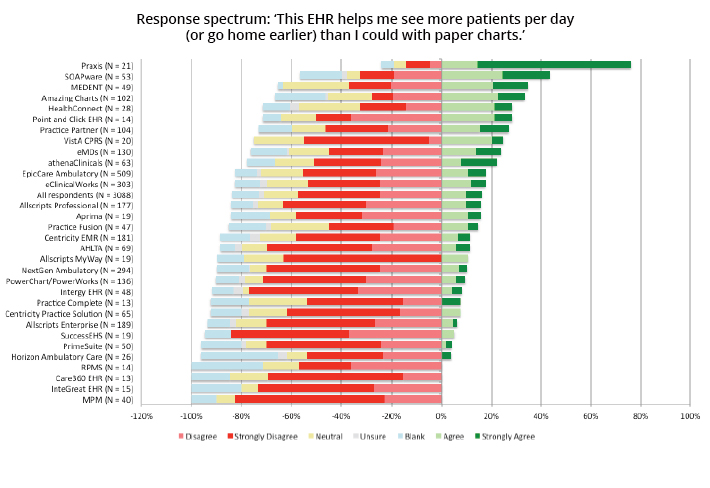 Source: Latest EHR User Satisfaction Survey from the American Academy of Family Physicians Journal (100,000+ members) | Family Practice Management | www.aafp.org/fpm | November/December 2012
Fewer Clicks
Are you tired of clicking through slow and tedious templates? Then Praxis EMR is for you. With Praxis, a few mouse clicks create an entire chart. With a few more clicks you complete an entire complex case and see your next patient. Praxis is that easy because it's your medicine, your text, your own way. You get exactly the information you need, when you need it, in your own words. No more clicking on template pick-lists.
Your time is important
On average, medical professionals spend 7.8 years of their professional lives on charting. This is a waste of your time and an embarrassment to our healthcare system. Praxis EMR's mission is to turn the burden of charting around and make charting work for you, not against you. If an EHR does not significantly reduce the time you spend charting and improve your medicine, it is not worth using.
No Template "Noise"
Praxis EMR's usability comes from its ability to provide you with just the right information, when and where you need it. Praxis has no template 'noise' and follows a simple formula:
Information = Data - Noise
Data is everything you see on your computer screen;
Information is the data that you need, when and where you need it;
Everything else is Noise.

Templates are inherently noisy, forcing your eyes to search to find the data you need. Praxis eliminates noise by placing just the information you need, where you want it, when you need it, in the format you prefer. This speeds up your charting and reduces personal stress and error.
At the heart of Praxis EMR's Concept Processing technology is the understanding that an EMR is not a "computer thing" but rather a medical tool. This is why we highly value feedback from practicing physicians. Over the course of our 25-year history, we have received amazing feedback from thousands of doctors. This feedback has enabled Praxis EMR to become the most usable EMR on the market today.
Praxis EMR reduces the time you spend charting, so you spend more time with what's important; with your patients and with your family and friends. Spend less time charting and more time caring. Please join us for a live Praxis EMR Demo and we will show you how.