Introducing Praxis Version 5 – The Praxis Stimulus Package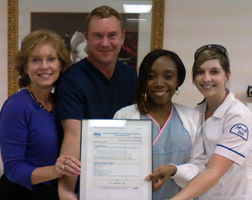 "I must tell you Praxis v5 is awesome in real time. The power and scope of functionality renews my excitement and enthusiasm in my practice of medicine. As a practicing physician in the front line trenches, I thank you for your continued vision and support. The software functions better than any competitor's software on the market."

John Davis, M.D., Family Medicine, Birmingham, AL, and his office staff hold up their Meaningful Use Attestation receipt letter.
A great electronic medical record system is not simply a good idea with a creative design team. A great EMR takes years of development and hard work with feedback from dedicated physician-users whose real life experiences shape the tool they use to provide care to their patients.
Although some EMR companies currently boast version 20, Praxis EMR takes every successive step in software development seriously. Every Praxis version has had an average lifespan of five years and has been extremely successful in helping physicians with the daily nightmare of documentation. Moreover, while most EMR vendors have been in existence for less than five years, Praxis EMR has been helping doctors practice higher quality medicine for over 25 years.
Each new Praxis EMR version offers about 20 times more power than its predecessor. And, without a doubt, Praxis v5 is the most powerful, intelligent, and usable Praxis EMR version to date. Therefore, it is with great pride that we announce the highly anticipated Praxis EMR Version 5- The Praxis HITECH Stimulus Release.
The Praxis Concept Processor
The new Praxis EMR v5 takes the celebrated Praxis Concept Processing technology to a new plateau. The Concept Processor in Praxis 5 acts as a second medical brain, recalling elements from past cases that are similar to the case at hand. This allows providers the freedom to chart using their own words and phrases, enabling you to practice medicine your own way instead of restricting you to data fields within template software. The more a physician uses Praxis EMR, the faster and more powerful it becomes.
The Praxis Knowledge Exchanger
Even template manufacturers concede that Praxis EMR creates better, more personalized chart notes. But, they argue that Praxis takes too long to learn. Not anymore. The Praxis Knowledge Exchanger in P5 allows users to benefit from the knowledge of expert physicians, enabling a rapid start up for new users and enhanced charting for long-time Praxis clients. Comprehensive medical knowledge databases in all specialties of medicine are at every Praxis user's fingertips. Now, with Praxis v5, physicians can have their cake and eat it, too. Praxis users benefit from an intelligent system that constantly learns, in addition to complete libraries of medical knowledge.
By far the most exciting new feature of Praxis EMR v5, and perhaps the most powerful feature of Praxis EMR to date, is Praxis Datum. The new Praxis Datum engine will revolutionize the way that discrete data is gathered from EMRs. Praxis Datum allows you to use free text written in any language to seamlessly create, store, and share any clinical data. So, you now have unlimited query of discrete data within free text. This is exactly what satisfies all Medicare Physician Quality Reporting Initiatives (PQRI), Pay For Performance (P4P) programs, and evidence based medicine recommendations. And, Praxis EMR guarantees that it will earn you the maximum payment under the Medicare and Medicaid EMR Incentives Program. But, Praxis Datum does so without forcing physicians into rigid and cumbersome templates. Datum enables interoperability with regional and national Electronic Health Records without giving up the physician-focus of an Electronic Medical Record, and without wasting your time as invariably happens with template-based EHRs.
Praxis EMR v5 also includes the most powerful query engine in medicine. The new Praxis DataMiner allows users to instantly query any clinical information from the Praxis database. The DataMiner is perfect for clinical studies, in particular drug trials, and offers compliance with all third party reporting programs such as Medicare Demonstration projects. And, with hyperlinked embedded Datum elements, users instantly query external documentation linked to the medical record of any patient as well the medical knowledge of any provider. Imagine unlimited queries without the boundaries and restrictions of structured boilerplates. With Praxis you have it!
e-Prescribing with SureScripts-RxHub
Praxis v5's e-prescribing with Surescripts puts doctors in control. Let Praxis generate your prescriptions automatically. Through the Surescripts network, Praxis v5 users will be able to electronically and securely exchange prescription information with pharmacies in communities throughout all 50 states and Washington, D.C.
The connection to Surescripts also allows for electronic routing of prescription refill requests, which physicians can receive via their office computer instead of their fax machine. Refill authorizations, or denials, can then be electronically communicated back to the pharmacy with just a few clicks of a computer mouse, thereby eliminating many of the faxes and phone calls associated with the traditional refill process. New prescriptions can also be routed directly to pharmacy computers before a patient even leaves their physician's office.
Praxis EMR Stimulus Package Warranty (ARRA)
Practicing easier, faster and better medicine has always been the driving purpose of Praxis EMR. To be sure, Praxis v5 is a quantum leap in that direction. Each new Praxis EMR provider now receives an unconditional Praxis Meaningful Use Guarantee. Implement Praxis EMR now and save time and money while increasing productivity and ensuring maximum payment under the Medicare and Medicaid EHR Incentive Programs.
Praxis EMR v5 has many other exciting features, including enhanced Reference Tracking for labs and reports, the Praxis Clinical Practice Guidelines and Prospective Query engine as well as Physician Empowerment Technology (PET), an intelligent Decision Support engine providing Evidence Based Medical advice at the point of care.
Exciting Features of Praxis EMR v5 at a Glance
Double signature for physician extenders
Reference tracking for labs and reports
Appointment, event, and resource scheduling
Easy telephone refills, triage, and inserted notes
Referral/consult contact management
Intelligent office messaging and ordering
Patient management
Demographics, insurance, and pharmacy
Praxform document generation
Rx, Tx, instructions, referral/consult letters, lab orders, HCFA
Personalized forms
Integrated high-speed scanning, digital imaging, audio capture
Workflow management
Patient prescription management & contraindications
Automated reminders/alerts
Healthcare maintenance reminders
Intelligent flow charting of medications, lab results, vitals, and clinical parameters
Lab and diagnostics imaging reminders
Office work flow reminders
Graphic overlay for growth charts and clinical analysis
FastCoder
CPT, ICD-9, and E&M coding
Elimination of under-billing
Level of Service optimization
SureScripts-RxHub upgrade
Wireless portability for tablet PCs and laptops.
Clinical analysis reports for protocol design
Voice recognition and dictation compatibility
Storage and archiving of all images and paper documents
Knowledge Exchanger
HIPAA officer controls
Advanced clinical practice guidelines
Praxis Patient-Provider Portal upgrade
Interface to billing/practice management, laboratories, PACS & medical equipment
This EHR Module is 2014 Edition compliant and has been certified by an ONC-ACB in accordance with the applicable certification criteria adopted by the Secretary of the U.S. Department of Health and Human Services. This certification does not represent an endorsement by the U.S. Department of Health and Human Services. Drummond Group is accredited by ANSI and approved by ONC for the ONC HIT Certification Program to certify: Complete EHR, EHR Module (all), and Certification of other types of HIT for which the Secretary has adopted certification criteria under Subpart C of 45 CFR.

This certified product-version may require ongoing annual costs to support the FastCoder, Drug Contraindication Module (DIT), and e-Prescribing (eRx) registration and maintenance. This certified product-version may require a one-time cost to purchase an Oracle Database license for each user accessing this certified product-version.

Please click here to review the Praxis Modular EHR (Ambulatory) Certification.